Knott holds firm to land $2 000 trout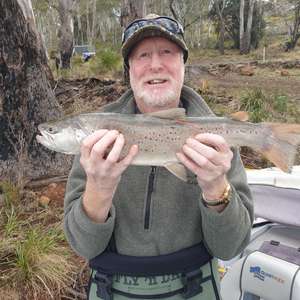 Rodney Knott planned on fishing the Lake Leake fishing competition between the Launceston and Longford angling clubs on the weekend but he caught a prize a bit bigger than he thought when he landed one of the $2 000 trout from the Tasmanian Tagged Trout Promotion.
Rodney headed up on Friday with his mate Geoff. They were trolling lures behind the boat and had caught three rainbow trout when Rodney hooked another fish in the bay at the Snowy River. The fish jumped a few times and put up a strong fight. As Geoff netted the fish they could see it was a good brown trout. As Geoff was removing the fish from the net he said "Ill be, its got a tag with WINNER on it." Rodney said "We were both very excited and Geoff shook my hand a number of times"
To top off a good weekend Rodney was coerced reluctantly into the eight ball competition at the local pub where he also won a further $220 and had to shout the bar!
The fish was caught on a purple haze hard body lure. The friends are going to share the prize money.
There are many more tagged trout out there to be caught. For more information go to the Tasmanian Tagged Trout Promotion.