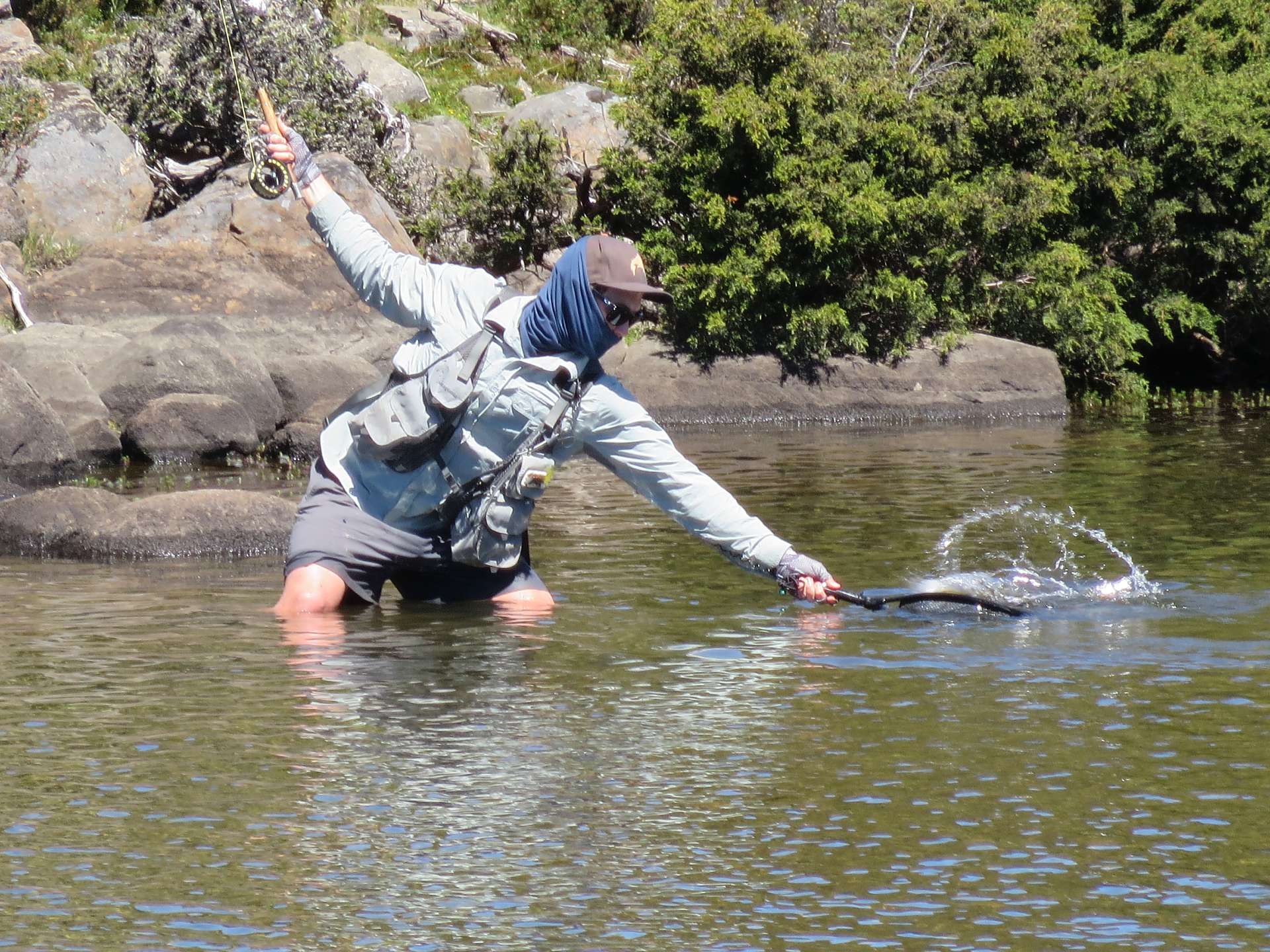 Angling Licence
When and where do I need an angling licence?
Any person over the age of 14 must have a current angling licence to fish with a rod, reel or line at any inland water in Tasmania. This includes farm dams on private property.
Most inland waters have an open season.
You must have a separate licence for whitebait fishing.
You do not need an angling licence to fish:
at a registered private fishery
for bream in the specified bream (indigenous fish) waters listed in the Inland Fisheries Regulations 2019
with a single rod at an open inland water if the person is under 14 years old.
What type of licence can I buy?
You can buy a licence to fish with one or two rods
You can buy a licence for:
Five seasons
One season
28 days
Seven days
48 hours
There are discounts on full-season adult angling licences for:
Department of Human Services (DHS) or Department of Veterans' Affairs (DVA) Pensioner Concession Card holders
Seniors Card holders – issued by states and territories.
people between 14 and 17 years (junior licence).
You must show your Seniors Card or Pensioner Concession Card when you buy your licence and record the number on the licence.
Please note that a Health Care Card does not qualify a person as eligible for a Pensioner licence.
The licence period runs from 1 August to 31 July each year.
No fee for junior angling licences
The Tasmanian Government is making junior angling licences free for the next four year. Junior anglers from 14, up to, and including, 17 years of age can fish Tasmania's inland lakes and waterways with a free angling licence.
This commitment runs until the end of the 2024-25 season.
Junior anglers under 14 yeas of age do not require an angling licence.
Where can I buy or renew my licence?
You can buy or renew an angling licence by clicking on the button in the top right hand corner of this webpage.
At all Service Tasmania shops.
At many tackle, outdoor and sports stores throughout Tasmania.
Angling licence conditions
When you go fishing, you must comply with the Inland Fisheries Act 1995, Inland Fisheries Regulations 2019 and subsequent Orders. We summarise these rules and regulations here on this website, in the InFish App, and in the Tasmanian Inland Fishing Code.
You can view complete versions of the legislation at legislation.tas.gov.au
How much does an angling licence cost?
The full price list for the 2021–22 season is below. Prices for new licences and renewals are the same.
| Licence type | Fee |
| --- | --- |
| One Season Licence – One Junior (14-17 years) 1 Rod | No fee |
| One Season Licence – One Junior (14-17 years) 2 Rod | No fee |
| 48 Hours - One Person 1 Rod | $23.00 |
| 48 Hours - One Person 2 Rod | $30.70 |
| 7 Days - One Person 1 Rod | $38.50 |
| 7 Days - One Person 2 Rod | $46.20 |
| 28 Days - One Person 1 Rod | $60.00 |
| 28 Days - One Person 2 Rod | $67.70 |
| One Season licence – One Pensioner 1 Rod | $41.50 |
| One Season licence – One Pensioner 2 Rod | $49.20 |
| One Season licence – One Senior 1 Rod | $60.00 |
| One Season licence – One Senior 2 Rod | $67.70 |
| One Season licence – One Adult 1 Rod | $75.50 |
| One Season licence – One Adult 2 Rod | $91.00 |
| 5 Season licence – One Pensioner 1 Rod | $200.00 |
| 5 Season licence – One Pensioner 2 Rod | $237.00 |
| 5 Season licence – One Senior 1 Rod | $290.00 |
| 5 Season licence – One Senior 2 Rod | $327.00 |
| 5 Season licence – One Adult 1 Rod | $360.00 |
| 5 Season licence – One Adult 2 Rod | $435.00 |
| Same Person 2nd Rod (Pensioner/Senior) | $7.70 |
| Same Person 2nd Rod (Adult) | $15.50 |
| Replacement | $3.10 |
| Whitebait | $33.00 |