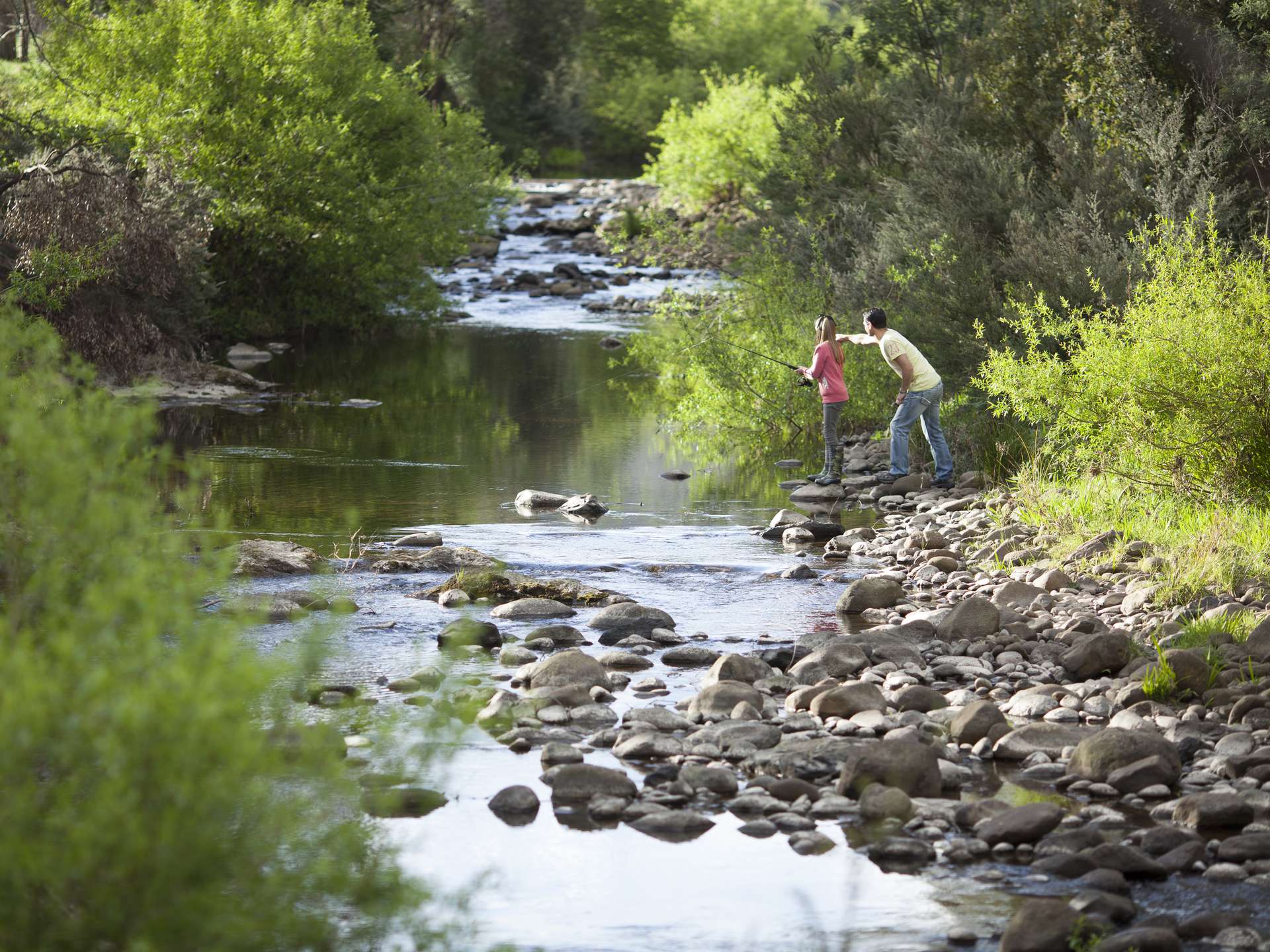 Anglers Access Program
The Angler Access Program improves access for anglers to Tasmania's fisheries. This involves working with landowners and creating formal access agreements.
Rivers often flow through multiple properties. These may be a combination of public and private land. Private land title generally extends to the edge of the river, and occasionally to the middle.
An angling licence does not give permission to cross private property to fish,
The IFS and Anglers Alliance Tasmania work with landowners to develop access.
Access points are clearly marked with signs on major fisheries around the State.
Anglers play an important role in maintaining good relations with landowners.
Please understand that access is a privilege not a right.
When in doubt, ask for permission before accessing the water.
Please observe the access rules and warnings on signs.
Many lakes in Tasmania exist on Hydro Tasmania or reserve land (Crown, National Parks etc.). Public access is generally permitted across the land to the lakes and around the lakeshores. Hydro Tasmania does control access to areas where there is infrastructure or safety issues. Appropriate warnings generally sign these areas.
The IFS and Anglers Alliance Tasmania work with landowners to develop access. Participation in the Anglers Access Program is voluntary. To find out more download the Information for landowners brochure.
Anglers Access Program brochures
We have developed brochures and fact sheets with access information for popular lakes and rivers. Each includes a map showing access points and important information for local and visiting anglers including angler's code of conduct, regulation, safety, environmental issues and fishery management objectives.
Click on a water to download a copy of the Anglers Access Program brochure.
Private/farm Dams for Public Fishing - North West Region
All dams are stocked with brown trout by the Inland Fisheries Service.
Property owner name and address
Contact details
Coordinates (GDA94)
Latitude/Longitude
Notes
Max and Nathan Skirving
91 Skirvings Road
Sassafras 7307
3 Dams with access off Greens Creek Road.
Max 0408 642 677
Nathan 0418 518 942

462102E 5428584N
462130E 5428871N
462161E 5429109N

41°17'36.3"S, 146°32'50.4"E
41°17'26.4"S, 146°32'51.7"E
41°17'18.8"S, 146°32'53.0"E

Stile over fence at Greens Creek Road with access sign next to gate. Prior permission not required.
Ben Radcliff
716 Camena Road West Pine.
0407 375 204

414338E 5443187N
414468E 5443227N
415071E 5443201N
415408E 5443642N

41°09'29.2"S, 145°58'44.2"E
41°09'28.0"S, 145°58'50.1"E
41°09'29.0"S, 145°59'16.0"E
41°09'14.9"S, 145°59'30.7"E

Access by prior permission with Ben's mobile number. Signs at Camena Road and West Pine Road.
Justin Shephard
98 Natone Road Stowport
0408 102 769

410320E 5447708N
410268E 5447515N

41°07'00.5"S, 145°55'54.2"E
41°07'06.3"S, 145°55'50.0"E

Access by prior permission with Justin's mobile number. Signs at Natone Road.
Scott Rockliff
Bill and Sheryl Rockliff
164 East Sassafras Rd Sassafras.
Scott
0418 143 970
Bill and Sheryl
0418 267 286

457082E 5431382N

41°16'04.5"S, 146°29'15.4"E

Access by prior permission via mobile number. Sign at East Sassafras Road
David and Jane Field
473 West Ridgley Road West Ridgley
David
0429 950 024
Jane
0498 561 971

398272E 5444050N
398196E 5443872N

41°08'54.3"S, 145°47'15.9"E
41°09'00.7"S, 145°47'13.5"E

Access by prior permission with David or Jane's mobile number. Sign at West Ridgley Road.
Chris McKenna
Contact address:
131 Gawler Road Gawler 7315
Dam address: 129 West Ridge Rd Penguin.
0418 966 801

420295E 5448119N

41°06'51.4"S, 146°03'02.4"E

Access by prior written permission. Sign and stepover at Bass Highway, Penguin.