Fly fishing more successful than golf!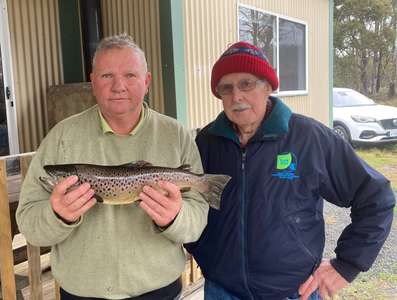 Stephen was in Tasmania representing WA in golf at the Master Games in Launceston. After the Games he headed to the highlands with locals Bruce and Tim. He walked down the road from his friends shack in Flintstone Drive at Arthurs Lake to have a flick with the fly rod.
As he prepared on the shore he met two other anglers that advised him to put on a woolly worm wet fly and pointed to where he should fish amongst the flooded tussocks.
He tried a fly rod that Noel Jeston had helped him set up back in the days of the Jetfly store at Cressy where Noel had taken novice Stephen onto the lawn at the back of the store and given him a quick fly casting lesson. Noel then tied on a red tag dry fly and sent the novice down to Brumbys Creek to practice casting. On that day Stephen quickly got a tangle and then while pulling the fly in hooked and landed his first trout on the fly. He quickly return to Jetfly to show what he had caught much to Noel's pleasure.
Today was much similar. After providing instructions the other anglers had wandered off. Stephen saw a fish rise but quickly became tangled. He sorted out the tangle and cast to where he had seen the fish. The fish charged and took his fly. It put up a strong fight tangling the line around the tussocks. Stephen waded out about 25 metres and untangled the fish and then walked it back to the edge where could land it without a net.
He noticed that the fish had an orange tag. He thought it might have been a fish survey so decided to keep the fish so that it could be recorded. While walking back up the road he spoke to another local shack owner and asked about the orange tag. He was told that he was a winner and to contact the phone number on the tag.
Stephen was very excited, to have confirmed, that he was indeed the winner of $2 000 in the Tasmanian Tagged Trout Promotion.
Stephen said "I have been coming to Tasmania for a lot of years, I always buy a licence and have a trout fish while I am here. I think the Inland Fisheries provide a great service for anglers in this State."