Carp Management Program Annual Report 2021-22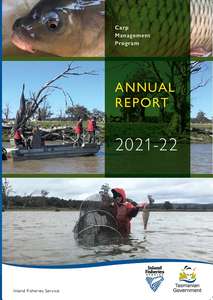 Four carp were caught from Lake Sorell this past year year. All were female with only one fish which was capable of spawning, while the other three possessed advanced gonad deformities.
The last male carp with a viable gonad was caught in the summer of 2018-19. There appear to be no fertile males left in the lake.
Focused fishing effort was undertaken from October to early January. The water level in Lake Sorell was high and there were extended periods of warm, sunny weather. These environmental factors should provide carp spawning activity and increased the efficiency of fishing. The continued ideal environmental conditions and low catch rates are very encouraging.
Juveniles carp surveys during and after the spawning season did not detect any sign of recruitment, despite extensive electrofishing and fyke net effort. All water released from Lake Sorell is still being screened as a precautionary measure. No carp were found in Lake Crescent or the River Clyde surveys.
The plan for this coming year is for Lake Sorell to remain open for public recreational use. Carp fishing effort will be focused in November and December this coming year to remove any remaining carp in the lake.