Another tagged trout winner, this time at Lake Rosebery!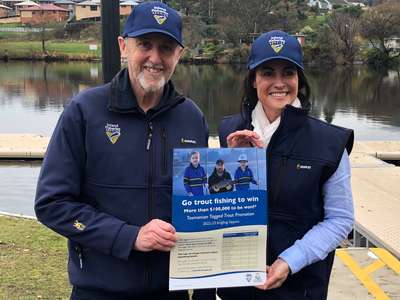 Liam McKenna of Devonport and his mate Jarvis had a fishing trip down to Lake Rosebery they will not forget for a while. Arriving down at the water from the north west coast at around 10am on Saturday 19th of November, they spent the day casting and retrieving soft plastics from the shore of the lake.
Throughout the day Jarvis had caught 10 fish to Liam's 2. According to Liam, Jarvis was starting to remind him several times about the day's catch score board.
This all changed at about 6pm that day. Liam had a good hit on his soft plastic and brought in a good fish. Upon having a good look at the fish in the net they noticed an orange tag next to the dorsal fin that read 'WINNER'. Liam realised he had been lucky enough to catch one of this years promotional $2000 tagged fish.
He then reminded his mate Jarvis that it wasn't the quantity of fish caught that was important. It is all about quality….
The 2 mates then headed home after what was a day fishing they will never forget!
The fish was one of the five fish released into Lake Rosebery this season. There are still plenty of tagged trout in waters around the state to be caught as part of the Tasmanian Tagged Trout Promotion.