Tony bags $2000 tagged trout from Bronte in Bradys!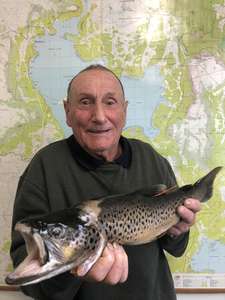 When Tony Purkiss wandered into the Inland Fisheries Service Head Office at New Norfolk he thought he was doing a good service by reporting a tagged trout that he had caught in Bradys Lake that morning. He was aware that two trout had been released into Bronte Lagoon, upstream of Bradys Lake, as part of the Tasmanian Tagged Trout Promotion.
He was invited into the office and sat down while we filled out the prize claim form. At the point where we asked for his bank account details Tony asked what we were doing and if he had won something. On being made aware that the fish he had caught had a $2 000 tag he let out out a gasp. Tony said "I didn't think there were any prize fish in Bradys and that it was just another tagged fish from the survey".
The tagged trout was one of two released into Bronte Lagoon before the start of the season and had swam down through the Whitewater into Bradys Lake.
Tony caught the fish early in the morning slowly casting and winding a floating wattle grub. He also caught two good rainbow trout. He said "I love trout fishing. I usually use a grub or a lure and I like fishing from the shore". Tony enjoys trout fishing and his favourite waters are Bradys Lake, Lake Echo and Tooms Lake. He will use the money to go fishing more often.
There are still plenty more trout to be caught, at waters near you, in the Tasmanian Tagged Trout Promotion.