Penstock Lagoon trout survey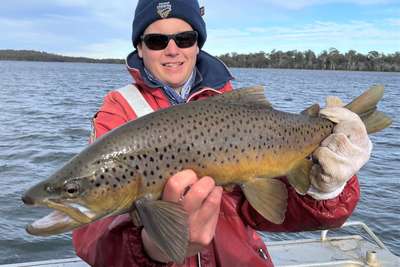 With the opening of the 2022-23 trout fishing season, we often get asked 'where's a good place to catch a fish'. For those heading up to the highlands, Penstock Lagoon might just be worth a look. Last week, we carried out a survey of the trout population with some very interesting results.
Over two nights, we trapped and released 722 brown trout and 20 rainbow trout. This surprised us a little, as we have been reducing the number of wild adult brown trout transferred for the last three years. The condition of the brown and rainbow trout was good.
The average weight for brown trout over the legal length of 400 mm was almost 1.3 kg, with the largest being 2kg. Sixty five percent of brown trout were between 1 – 1.5 kg with 21 percent over 1.5 kg.
The average weight for rainbow trout over the legal length of 400 mm was an impressive 1.7 kg, with the largest fish weighing 2.1 kg.
The survey also showed around 10 percent of the brown trout were under the legal length limit, anglers should therefore measure their catch before considering taking smaller fish.
During the survey we also captured some of the fin clipped brown trout that were released during 2014 and 2016. This makes the 2014 fish a minimum of eleven years old and the 2016 fish nine years old.
So if you are looking to catch either great brown or rainbow trout on the fly this season, you may like to give Penstock a try.
Figure 1: The length and weight for brown trout captured during the survey.