River Derwent still a strong provider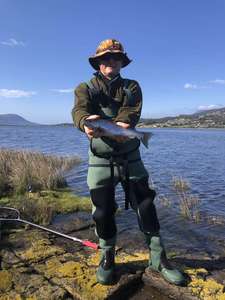 Over the weekend, anglers of all ages and abilities ventured out to their favourite water to try and catch one of the prized trout or salmon Tasmania is famous for!
Peter Skeels was one of those anglers. He has a little spot on the River Derwent he likes to fish, using baitfish under a float. Within five minutes he landed two brown trout in great condition. One of the fish was sporting the green tag of the River Derwent trout study, with both fish released unharmed to fight another day.
Not to be confused with the orange tags for the very popular Tasmanian Tagged Trout Promotion, details of the trout study can be found here.
If you catch a tagged trout, contact the Inland Fisheries Service on 1300 IN FISH (1300 463 474) between 9am and 5pm Monday to Friday, or email infish@ifs.tas.gov.au, provide your name, contact details, tag number, waterway, location the fish was caught and overall length. Orange tags are worth $2000 (subject to terms and conditions) and if you capture a green tag, your name will go into the draw for a Shimano graphite fishing rod and reel combo at the end of the season.
Recent rainfalls and climate outlook are combining with the IFS stocking and transfers program, to set up what is shaping up to be one of the best trout seasons in recent history.
So why not buy a licence and catch a trout? You may get more than you bargained for!