Bradys Chain provides double the fun!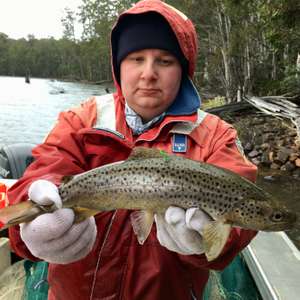 During June 2019 the IFS as part of a fishery performance assessment, tagged, weighed and measured 3,500 adult brown trout collected from the Lake King William fish trap. These fish were transferred into Bradys Chain of Lakes to assist in the assessment of the fishery and to supplement stock. So far 111 fish have been captured and reported back to IFS by anglers. While the percentage of reported tags is low, most anglers that fish the Bradys Chain of Lakes consistently, are telling us they are catching tagged fish on a regular basis.
Some tagged fish are even being captured multiple times, as fishing buddies Tony Thomas and John Bessell found out.
On the 14 December 2020, Tony captured 4 brown trout on the fly rod at Tungatinah Lagoon. Two of these fish were tagged (tag numbers 1204 and 4029). Tony carefully released both fish so hopefully someone else could catch them again one day. Amazingly, on the very next day he recaptured fish number 1204 again, at the same water.
While this is interesting, a more coincidental captured occurred some three months later, on 22 March 2021. While buddies Tony and John were fishing together, catching 12 fish for the day! John captured tag fish number 4029 that Tony had caught and released back in December 2020. The angling buddies didn't realise this until we checked our records and confirmed both Tony and John had caught fish 4029 each. John also caught his fish on the fly rod and once again it was released to be caught by someone else. A positive aspect of the tagging program beside adding to anglers catches, has been the improvement and retention fish condition. While overall growth rates have only been moderate, the condition of fish has been very good, indicating these transferred fish have adapted well.