Chasing Atlantic salmon in inland waters!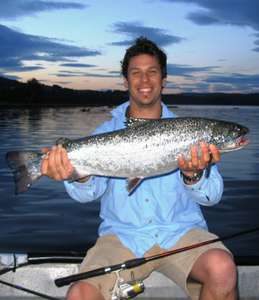 With the recent arrival of 'escapee' Atlantic salmon in inland waters anglers need to be aware that regulations apply.
Each person must have a current angling licence to fish with a rod, reel and line in any inland waters.
A 5 fish daily bag limit applies to Atlantic salmon in inland waters.
The two main rivers where salmon are being caught are the Huon and the Derwent. An angling licence is required to take Atlantic salmon (and trout) above the following boundaries.
Huon River- Above an imaginary straight line drawn between a white post situated on the shore of the southern side of Castle Forbes Bay and another white post situated to the eastward of that post on the opposite bank of the Huon River.
River Derwent – Above a line between Dowsings Point to Store Point.
For the seaward limits of other rivers go to the Inland Fisheries (Seaward Limits) Order 2004
For more information go to the Tasmanian Inland Fishing Code 2020-21