Four Springs Lake trout survey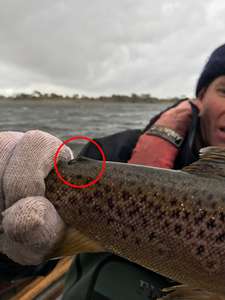 In May this year we clipped the adipose fin of 2,000 adult brown trout from the spawning run at yingina / Great Lake and transferred them to Four Springs Lake. The fins were clipped in preparation for a fisheries performance assessment, using box traps, that was done on between 21-24 July. The fin clips allow us to estimate the size of the brown trout population and follow these transferred fish through the coming season.
During the survey we captured 585 brown trout of which 85 were fin clipped. We also caught 25 rainbow trout. The average weight of brown trout over 300mm was 1.19kg while fish over 400mm weighed on average 1.26kg. About 23% of the total catch were between 1.5 – 2.2kg.
Most of the rainbow trout captured were from the recent stocking with most being just over the legal length limit.
We would like anglers fishing Four Springs Lake to keep an eye out for these fin clipped fish and note how many of these fish they catch compared to those fish that don't have a fin clip. Over the next six weeks we will be checking anglers catches at Fours Springs while undertaking our routine patrols. We would appreciate if you could send your catch information to infish@ifs.tas.gov.au
This will help us verify the data. A full report on the survey will be out soon