Brown trout opening weekend set to be a beauty!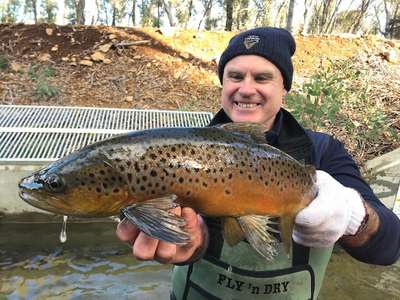 Following on from the disruption to people's lives at the end of the 2019-20 season, the vibe is definitely one of anticipation and excitement as we usher in the 2020-21 Brown Trout season on Saturday 1 August. The fantastic staff of the Inland Fisheries Service Hatchery & Stocking branch have been working through challenging times (and weather!) to ensure the brown trout spawning run in the highlands went smoothly and popular waters around the State are full of trout.
Combine this with five tagged trout in five world class lakes (Arthurs Lake, Lake Burbury, yingina/Great Lake, Lake Pedder and Lake Rowallan) worth $50,000.00, fishing licence fees frozen until 2022 and winter rains filling catchments to good levels and it's looking great.
If you're up to the challenge - pack the rods, woollies, your licence and get up to your favourite water. Here are the rules and regulations in the Tasmanian Inland Fishing Code 2020-21.
Take a break from the mainstream and support a local business.
As the old saying goes 'you won't catch one sitting on the couch'!
Escape the uncertainty. Trout fish Tasmania