Put Lake Gordon on your destination list this season!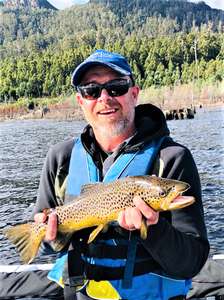 A party of anglers had a productive trip to Lake Gordon recently and are planning to return soon. Launching at the Ragged Basin area off Boat Ramp Road, this narrow and overgrown 4wd track provides access to the sheltered and heavily timbered southeastern side of the lake. Launching is possible at the current level of -20.7 m below full supply level. Drift spinning with hard body lures amongst the structure, the three anglers were rewarded with eight nice brown trout up to 1.5 kg and around 50 redfin up to 750 g for a day's fishing.
Please exercise extreme caution when boating on the lake due to the amount of submerged timber just under the surface and hard to see in the tannin stained water.
Here is the Lake Pedder and Lake Gordon Anglers Access brochure