Rainbows at Liawenee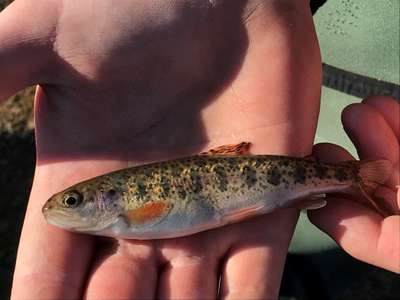 The rainbow trout spawning migration has started in Liawenee Canal.
We use our trap on the canal to monitor the spawning run. We weigh and measure some fish as part of our long-term monitoring program.
We sort the fish and place them into channels. This assists them to spawn naturally, away from where the brown trout spawned over winter. This gives the newly hatched rainbow fry the best chance to grow without competition from the more advanced brown trout.
At first glance this year's spawning rainbows are in excellent condition. Over the last couple of days 110 fish have entered the trap, 88 were male and 22 were female. The males typically run first and wait for the females to arrive!
Prior to releasing the adult fish we sampled the channels and found healthy yearling rainbows from last years spawning. These are the future fish for the yingina / Great Lake fishery.
Remember Canal Bay on yingina / Great Lake remains closed until Saturday 30 November to help protect the rainbow trout.