Tooms Lake boat ramp upgrade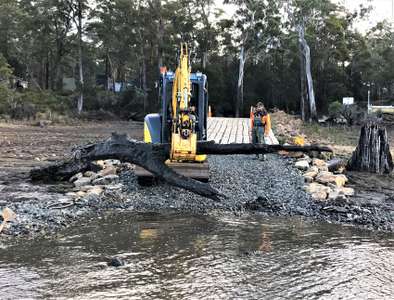 Marine and Safety Tasmania and Inland Fisheries have jointly funded an upgrade to the Tooms Lake boat ramp. Taking advantage of the current low lake level of - 2.60 m below the spillway, contractors removed stumps and snags from the vicinity of the ramp, extended the gravel ramp to the current water level and repaired the rock armour on the sides of the ramp.
The project was managed by the Inland Fisheries Service. Stocking of both brown and rainbow trout during the winter Tooms Lake is primed to fire early in the 2019/20 season – just add water!
The lake will need to rise by around 300 mm ( - 2.30 m) to make boat launching possible.
The level for Tooms Lake can be found at www.bom.gov.au – latest River Heights for the Northern Rivers.