Blackmans Lagoon Fishery Performance Assessment, July 2019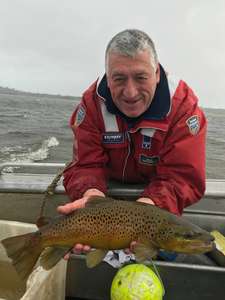 Blackmans Lagoon is well known for growing large trout that can be difficult to catch.
During the 2019 Central Highlands brown trout spawning run, we transferred 500 wild brown trout into Blackmans Lagoon.
Before we released them, we clipped their adipose fin. This was in preparation for a Fishery Performance Assessment so we could estimate the population and better understand the health of the fishery.
In the third week of July, we set 40 traps around the lagoon for two nights. We caught 291 brown trout.
10% were fin clipped;
the average length was around 480 mm;
the average weight was 1 661 grams; and
The largest fish was a female of 596 mm, weighing 2761 grams.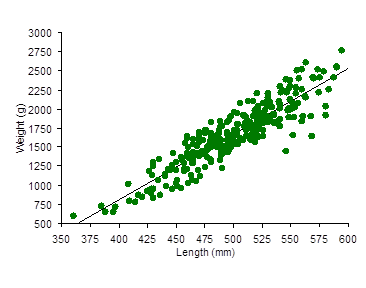 This graph shows the spread of the length and weight of all the brown trout captured during the survey.
An improved type of rainbow trout stocked in recent years has led to a small population of younger well-conditioned, healthy fish and some poorer older fish that have had trouble getting rid of their eggs.
Being a part of the Waterhouse Conservation Area there are some special rules about fishing Blackmans Lagoon. These are available through the Parks and Wildlife Service website – Waterhouse Conservation Area Management Plan 2003
For anglers using a boat, be careful when launching and be prepared to use four-wheel drive when retrieving your boat from the shallow, sandy, ramp area.
Fishing at Blackmans Lagoons is exposed to the elements but for anglers seeking a better than average fish it may be worth a visit.
A detailed report will be available from the IFS website in the coming months.