Tagged monster brown trout recaptured in the River Derwent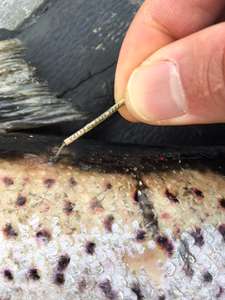 Recently, local New Norfolk angler, Jason Harrison, caught an amazing brown trout in the River Derwent River. The fish not only weighed over 4.5 kg (10 pounds) but also happened to be a tagged fish from a study conducted almost exactly 10 years ago!
Jason was fishing on the banks of the River Derwent in New Norfolk last week. At approximately 1:30am a large fish ate the dead sandy he was casting and retrieving. After a heated battled, Jason landed a magnificent sea run brown trout. The fish weighed 4.64 kg and measured 770 mm.
When Jason got the fish home he discovered there was a small tag sticking out of the fish's back.
Jason contacted the IFS and gave the tag details to our officers. We were able to look up the history of the fish. On 3 September 2008, this fish became part of a study being conducted by the Institute for Marine and Antarctic Studies (IMAS) in collaboration with the IFS. The study was looking at the movement of recreational fish species in southeast Tasmania.
In 2008, this fish measured 400 mm. It was tagged, implanted with an acoustic transmitter with a battery life of approximately one year and released in the Boyer region of the River Derwent. Within two days of release, the fish travelled from Boyer up to New Norfolk. It stayed in New Norfolk for nearly six weeks. It was last detected on 10 October 2008.
This fish would have been over 14 years old.
An amazing story. Thank you, Jason, for reporting the tag details.
For more details on the 2008 study, read the findings published in Understanding Movement Patterns of Key Recreational Fish Species In Southeast Tasmania