The latest whitebait conviction
Published on May 16, 2018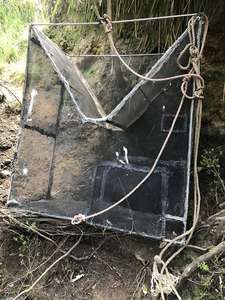 Brodie Lee Popowski appeared in Smithton Magistrates Court on Wednesday 10 May. He pleaded guilty to several charges relating to the illegal taking of whitebait.
The Court fined Mr Popowski $1 749 and ordered him to pay $82.15 in costs.
Mr Popowski was convicted of:
1. Taking whitebait without a whitebait licence
2. Possessing whitebait without a whitebait licence
3. Failing to comply with a Ministerial Order under the Inland Fisheries Act 1995
4. Using a non-permitted net at Inland Waters
5. Possessing a non-permitted net at Inland Waters.
The events took place at the Montagu River during October 2017. The Montagu River only opens for whitebait every second year. In 2017, it was closed.
Whitebait regulations are in place for a reason. The fishery is fragile because of over fishing between the 1940's and 1960's. Illegal fishing for whitebait puts this fishery at risk. It could lead to the closure of the recreational whitebait fishery.
If you witness illegal fishing, or anything suspicious at our Inland waters please let us know. Our Manager of Compliance and Operations Stephen Hepworth's number is 0438 338 530. Help us protect our valuable inland fisheries for all to enjoy into the future.