IFS support weed removal at yingina/Great Lake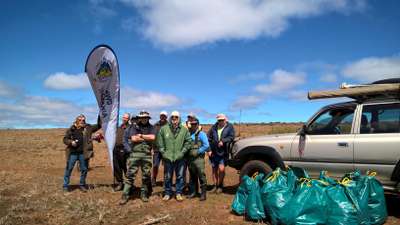 Last weekend IFS participated in a exercise to remove Ragwort from Elizabeth Bay, Great Lake. This highly invasive weed has infested large areas along the eastern side of the Great Lake and an ongoing project by the Derwent Catchment Project aims to remove it from this region.
With financial support from Hydro Tasmania, the Derwent Catchment Project coupled together personnel from IFS, AAT, Tas 4WD and private individuals to make inroads into the removal of the weed. The weekend involved contributors pulling the plant out of the ground and then removing the seed head and bagging it to prevent germination.
A very large area covering 150 - 200 acres is now devoid of mature plants which would have otherwise seeded over coming months. Many thousands of mature plants were removed and given that 1 mature plant can produce up to 240,000 seeds, the impact from the weekend is very significant.
As well as contributing in the removal of the plants, IFS also provided boat transport for personnel from Boundary Bay and return each day and the provision of overnight accommodation at its Liawenee Hostel. It is expected that the project will need to continue for several years to see the eventual removal of ragwort from the area.