This weekend looks a bit rough like the last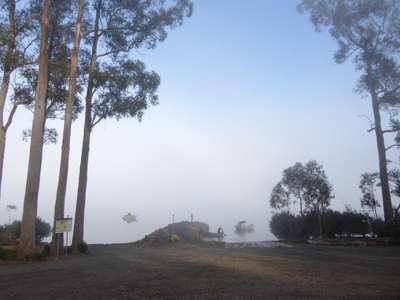 This coming weekend looks a bit like the last with some cold blustery weather conditions forecast. This will not stop the fish from biting but we ask anglers to take care.
Quite a few anglers decided to take advantage of the magnificent weather last Saturday, before we rapidly returned to winter conditions on Sunday. Our Fisheries Officers were on patrol to make sure everyone was safe and doing the right things. Anglers in the north were reporting good fishing conditions along the Mersey, with worms and soft plastics yielding the best results. A good number of boats were found on Four Springs, with a combination of fly fishing and hard body trolling landing some fish in great condition. Numbers of brown vs rainbow trout were about even, with quite a number of fish larger than 500mm. We do remind anglers to measure fish and be aware of the regulations for each water. Two offences were detected of vessels exceeding the 5 knot limit for the lake so please be respectful of the need to keep your speed down in this narrow lake.
Anglers in the Highlands took advantage of bright but calm conditions, with good fishing for those who were able to get up there. Woods Lake continues fished well with hardbody lures and wet flies. Penstock has continued to fish well since the opening weekend. With a rising level,Lake Crescent is also proving popular, for both shore and boat fishing.
Three infringement notices were given for people not wearing their PFDs on boats. It continues to frustrate the Inland Fisheries Service that people are putting their lives at risk on Inland Waters. Marine and Safety Tasmania advise the following facts on cold water immersion, that we all should be mindful of, which underpin the laws relating to wearing of PFDs in Tasmania:
In Tasmania, Inland Waters can range from 2° to 17°;
The risk of drowning increases nearly 5 times if the water temperature is below 15°;
Studies show up to 60% of fatalities due to cold water immersion occur in the first 15 minutes before the body core temperature cools to hypothermic levels;
Cold water carries heat away from the body 25 times quicker than air with the same temperature.
It is not uncommon for winter temperatures in highland lakes to be around 2-4°, therefore survivability is greatly reduced if a person falls overboard and is not assisted with the buoyancy of an effective PFD. Please make sure you return home in the same condition you left.