Largest ever fine for poaching giant freshwater crayfish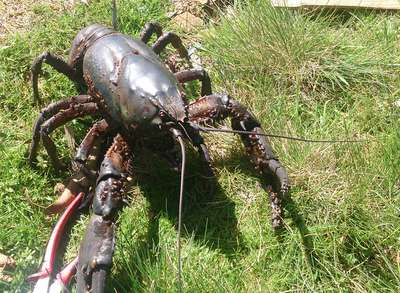 On Monday 20 August 2018, the Magistrates Court convicted a northwest man of offences relating to giant freshwater crayfish. Magistrate McKee heard Mr Bakes illegally hunted, caught and ate the highly protected and threatened species from November 2013 to November 2017. This is most serious case about giant freshwater crayfish ever dealt with by the Inland Fisheries Service.
Paul Charles Bakes was convicted of
six counts of take protected fish;
nine counts of possess freshwater crayfish; and
One count of take trout without a licence.
He was fined a sum of $8 550 and $66.36 in court costs.
Information from the public resulted in a joint operation between IFS Fisheries Officers and Marine Police at Stanley. Mr Bakes admitted the offences and was charged.
Mr Todd Walsh is a local expert with 15 years' experience in giant freshwater crayfish. Mr Walsh said it was pleasing to see the courts taking the issue of poaching the species seriously.
"I know of the hard work continually done by the Inland Fisheries Service in protecting our native species, so it was pleasing to see the Magistrate give a large enough fine to not only stop the defendant from putting the species at risk, but also serve as a big warning to anyone else that might think about doing the same thing".
Our Section Manager, Chris Wisniewski said, "Before the banning of fishing for giant fresh water crayfish in Tasmania in January 1998, records show a wide scale decline in the population. Especially in the number of large, reproductive adults. This decline was directly linked to those fishing targeting larger specimens."
Anyone with information relating to the illegal taking of protected species can call the IFS on 0438 338 530, or Crime Stoppers on 1800 333 000.