Government House carp sighting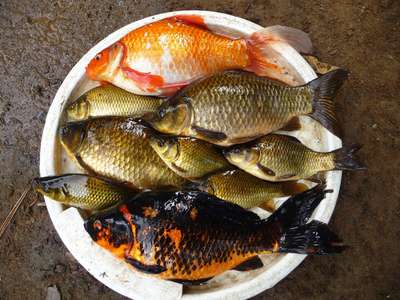 Recently, the official secretary of Government House contacted the IFS. He had seen some mystery fish in their large quarry pond. He sent us some photos of a dead fish found in the shallows and a live fish swimming around. The dead fish was a common goldfish (Carassius auratus), but we were not sure about the live fish. It looked a lot a koi carp (Cyprinus carpio).
Koi are a domesticated common carp. They are selected for their bright colours and usually kept for in garden ponds. Because we are currently eradicating common carp from Lake Sorell, it was a high priority to investigate the fish living in the pond.
In March, we conducted a survey of the quarry pond. We used a range of techniques including backpack electrofishing and gill nets. We partitioned the pond into 5 sections. We caught nine goldfish of varying sizes and colours. Fortunately, the two large individuals could easily be mistaken as koi carp were not.
Before Government House was built the Quarry Pond was a working quarry. The secretary told us that in 1862 there was a policy to introducing non-native species of plants and animals into the new world. During this time, eight tench were released into the pond.
We encourages anyone to contact us ASAP if you think you may have seen a carp. Photos or the collection of the suspect fish helps us identify the fish.
Please contact us via email to infish@ifs.tas.gov.au or phone 1300 INFISH (1300 453 414)