Carp in the gun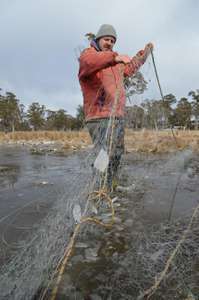 The outlook for total carp eradication from Lake Sorell is positive moving into this season with less than 1% of the carp left in the lake. This follows a successful 2016/17 season in which 439 carp were caught, and surveys showed no signs of spawning. The remaining carp in Lake Sorell appear to be struggling in both size and maturity.
With good water levels at present, the remaining carp population will push inshore as temperatures rise. As was the case in 2016, the priority again will be to stop spawning through intensive inshore netting in combination with radio transmitter carp in order to detect where they are moving.
Carp have already showed signs of pushing into the shallow areas of the lake. The movement of our latest radio transmitter carp increased throughout September, and a small female carp was recently caught in an inshore fyke net.
Our game plan allows for the changing environmental conditions and adjustments will be made to the fishing strategy to suit. Exploiting the environmental stimulus for the carp to push inshore in coming months is critical. All of the gear is in place for such an event, time will tell if the weather will be on our side.
Everything is being done to rid Lake Sorell of carp so as to see the return of what was a fantastic recreational trout fishery.