IFS cleans up at Lake Crescent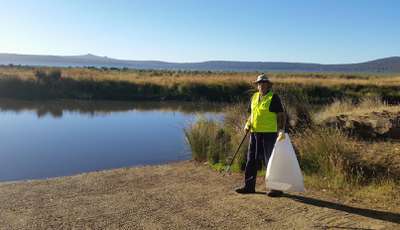 A short summary of the clean-up activity at Lake Crescent.
Last Tuesday the IFS team pulled on the gloves, picked up the garbage bags took part in Business Clean Up Australia Day.
The clean-up area was the Lake Crescent boat ramp and car park, the road verges from the Lake Crescent screens out to Dennistoun Road, through the forest and to the Lake Sorell screens/canal.  They also covered the Dago Point road and all the public camping areas in and around Dago Point.
The good news is, there really wasn't a lot of rubbish.  It was mainly glass and plastic drink containers.  The camping areas at Dago Point were particularly tidy.  We've been taking part in Business Clean Up Australia Day at Lake Crescent for a few years now and it's great to see it's making a difference.