How is Arthurs Lake shaping up?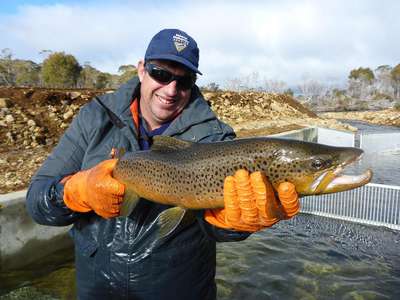 Since the depth of the last drought in 2008/09, the Arthurs Lake fishery compared to previous seasons has been disappointing. Catch rates have been down and the size of fish has been small. This may however be starting to change. Over the past five years, we have undertaken two surveys (2013 & 2016), as well as monitoring the spawning run each year, in addition to tracking anglers' catch rates and the total harvest of brown trout.
Indications are the fishery is improving, both in terms of the size and number of brown trout. A comparison of the survey results from 2013 and 2016, in conjunction with monitoring this years spawning run, suggests the lake is now holding fish from a range of sizes. Back in 2013 just 10% of the fish were 400 mm or greater, this compares to 34%. for 2016 . Monitoring of the spawning run this year indicates just over 50% of the fish are now 400 mm or greater. The graphs above show how the fishery is changing, and while the 2017 information is from the spawning run only, it shows a real improvement. We are confident this will show in the catches for the coming season.