Genetic control of Gambusia—3rd annual Australian Research Council project meeting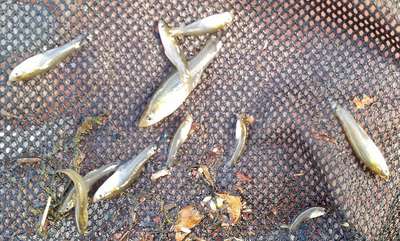 The pest fish Gambusia is often dubbed "Damnbusia'. Gambusia is a threat to Tasmania's inland waterways and its recreational fisheries. It is an introduced species. So far, only found in the kanamaluka\River Tamar estuary.
Gambusia is a small fish. The females grow up to 6cm and males to 3cm. They are aggressive to small native fish and frogs. They are hard to eradicate without damaging other values in their main location, the Tamar River Conservation Area.
The Inland Fisheries Service is working with the University of Tasmania, NRM North and University of Adelaide to develop a genetic control strategy. This strategy uses the "Trojan Y" technique that makes it so the female Gambusia only give birth to males.
The Australian Research Council funds the project. A project meeting to discuss progress and update the work plan was held recently in Launceston. It was an excellent opportunity for project staff and students to interact with stakeholders and research partners.
The project has made significant progress, including
The successful sex reversal of Gambusia in the lab.
The development of genetic sex markers.
The basis of a management strategy for the kanamaluka\River Tamar estuary.
Assessing the reliability of the sex reversal process for field use is the next step. The aim is to develop the Trojan Y strategy and use it to breed out the wild population the Tamar.