Fishing the long weekend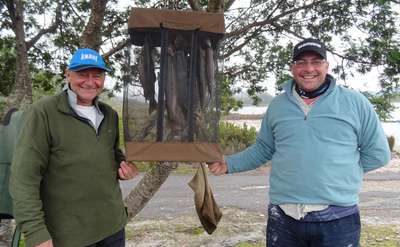 Anglers enjoyed some fantastic fishing over Australia Day long weekend at our inland waters. The weather conditions were mixed, with some fantastic days and some that were a little windy. Our Officers were on patrol and inspected 320 anglers. There were some exceptional catches of both brown and rainbow trout. Some observations from different waters from our officers follow:
yingina/Great Lake – Anglers did well using all methods on the morning of Friday 27 January. It was a bright calm day and the fishing slowed a little as the day went on. Fly anglers continued to take good fish all day by polaroiding amongst the waves and wind lanes. There was plenty of food on the surface of the lake keeping fish up and feeding.
19 Lagoons – Both of sunny days over the weekend (Friday and Sunday) saw fly anglers enjoying fantastic polaroiding conditions. Anglers reported seeing and catching good fish that were feeding in close to the banks. Lure anglers found it tough in bright sunny conditions but on the windier and overcast days were successful, particularly at lakes Augusta and Ada. In these locations wonder wobblers and small cobras worked well.
Lake Burbury – Was the standout water over this weekend. All fishing methods caught fish, with some very nice bags inspected by our officers. Lure anglers did well trolling cobras and Rapala's, whilst fly anglers found plenty of hungry trout in the wind lanes.
Little Pine/Penstock lagoons – Good trout were taken from both these waters, with red spinners plentiful on Penstock. On some days the wind made conditions challenging, but anglers still had success on wet flies.
Bradys Chain /Bronte Lagoon–Bait anglers at the mouth of the white water were successful using grubs and worms. One beautiful brown trout of around 2Kg was taken on worms. Bronte Lagoon has been fishing well for the last few months and this continued over the weekend.
Lake Leake/Tooms Lake – The fishing at these two east coast waters was tough. Anglers agreed that the conditions were a little too warm. Both these waters are also quite dirty at the moment. One group of anglers at Tooms Lake however did catch some nice rainbow trout on worms. First thing in the morning appeared to be the best time, before the day heated up.
Lake Echo– Lure anglers at Lake Echo did well in rough overcast conditions, however the fishing became very tough in bright sunny conditions. Some very good bags were taken from around Large Bay.
On the whole anglers were in good spirits enjoying a relaxing break with family and friends. Compliance with Inland Fisheries and MAST regulations was generally good, however total of 11 infringement notices were issued. Four of these were for unlicensed angling, with the other seven issued to people who failed to wear their PFD.
If you were out fishing this weekend, we would love you to enter your photos into our competition! Some fantastic prizes are up for grabs including both cash and gear prizes. Photos don't necessarily have to be of fish, just themed around our fishery! Maybe your favourite camping spot, fishing with the family, or even your best mate falling over!!! More information can be found here