BRONTE LAGOON PICNIC SHELTER & SURVEYORS MONUMENT UPGRADE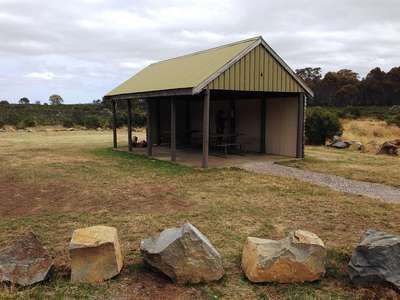 A notice from the Southern Highlands Progress Association:
The Southern Highlands Progress Association has undertaken the upgrade of this site over the summer with the assistance of Central Highlands Council. The council regravelled both the parking areas, provided the materials for repairs to the shelter and a new information panel at the monument about its construction.
Over 2 working bees by locals the shelter and picnic tables were repainted and the structure clad internally with colorbond and the outside pine boards repaired. The monument area was cleared of many of the trees obscuring the view of the monument, taking away many huge trailer loads of shrubs and bushes.
The following working bees involved the placing of a rock barrier around the parking area and shelter as well as the filling in of churned up areas and removal of tree roots to level out both areas for ease of use and the  spreading of grass seed as well as general mowing and cleanup of both sites.
The Association is proud of this outcome and thanks its members and workers who assisted to create this much used and historic place in the centre of Tasmania.