Latest carp update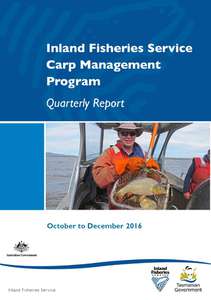 This quarterly report looks at October to December 2016.
This quarter we removed 289 carp from Lake Sorell. This is compared to 480 carp between October and December 2015. We expected less because there are less carp left in the lake.
This season we used a very different strategy to catch the carp than last year. Rapidly rising water levels which flooded the marshes, along with increasing temperatures over spring made the carp want to push in shore. When we saw this happening we changed from fishing the deeper water to working in the shallow margins around the lake. We set barrier traps in strategic places at the front of the marshes. A large number of the 289 carp caught so far were caught in these big traps.
This is the first major push inshore from the fish of the last big spawning in 2009-10. We've not seen this sort of thing for many years in Lake Sorell. We made the most of this opportunity during October and November to catch as many of the small number that remain.
For more information, more of the science, view the full report at the link below:
Carp Management Program quarterly report for October to December 2016