Anglers – get involved in improving fish habitat.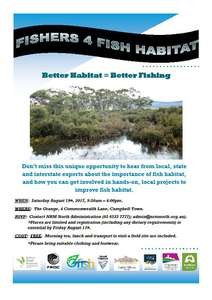 Anglers regularly express their concerns that the fishing is not as good as it used to be due to our waterways being choked with noxious plants and pests. There is now a lot of information on how to improve degraded fish habitat and there are ways you can get involved in local projects with the support of government resources.
On Saturday 19 August there is a unique opportunity for anglers to meet with landowners and experts to discuss about how to get hands-on to improve our waterways. If you are interested in attending the event in Campbell Town please RSVP now to the information on the attached flyer.