Lake Leake looking good early
Published on Aug. 4, 2017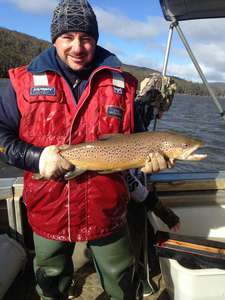 Last week we assessed the trout population at Lake Leake.  Over two nights, using 80 box traps, we captured 410 trout.  This total consisted of 383 brown trout and 27 rainbow trout.
As part of the assessment, in May 2017, we released 2,000 adult brown trout into Lake Leake.  These fish had their adipose fin clipped so they could easily be identified.  Of the 383 brown trout captured during the survey, 71 fish had adipose fin clips.  This has enabled us to approximate size of the population.  Indications are the number of trout was lower than expected.  However, this is not all bad, as three quarters of brown trout captured weighed 1 kg to 2.5 kg.
The above graph show the percentage of brown trout in each 500 gram weight range.
The average weight for brown trout was an impressive 1.2 kg, with a couple weighing over 2.5 kg.
The number of rainbow trout was much lower than expected, 61 percent weighed between 1 kg to 2.0 kg
So while the numbers of trout might be down a bit, the size is up.  This situation may well stand the lake in good shape if lake levels remain low. At present levels, the lake should fish well early.