Opening of the trout season – North West Opportunities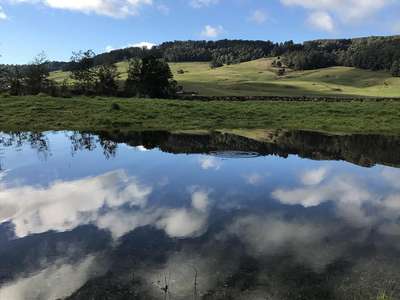 Trout season 2017/2018 is nearly upon us and it is now time to ask the important questions… Where to fish on opening day? For those in the north west of the state, there are some excellent options for those anglers chasing their first trout of the season.
Recent rains have caused river levels to rise and with more forecast for the weekend this should continue meaning that hungry trout will be searching for food. Fishing with worms for bait in backwaters or over flooded margins will produce good quality fish. The Mersey River between Latrobe and Kimberley is always a hotspot early in the season. Last year on opening day most groups had caught fish in just a few hours fishing! Check out our Anglers Access brochure for ideas of where to fish.
The River Leven will be worth a look on opening day. Between Ulverstone and Leven Canyon (the river above Loongana is closed until 30 September in line with the rainbow trout fishing season) there is plenty of good access available to anglers. We conducted annual maintenance on the River Leven Anglers Access sites over the past week and the river looks primed for early season fishing. Last Friday, in one flooded backwater at Gunns Plains we saw 6 fish tailing up in the shallows. The biggest of these fish would have been over 1Kg they would have been readily caught on a worm or with a fly. Find out more in the River Leven Access brochure.
The South Riana Dam will be another spot worth looking at. The dam is now completely full meaning that the water has drowned the surrounding pasture. Hungry trout will be on the lookout for food over these flooded margins, and we believe all methods of angling will be worth a try. The advanced brown trout fingerlings we stocked in 2016 will be at a takeable size this season. Late last season we observed some of these fish and they have grown amazingly quickly. They will put up an incredible fight for someone lucky enough to hook one. In addition to the 2016 stocking, there are still some monster fish in the lake that lived in the original dam. We saw several of these fish in anglers bags last year, and some were as large as 8lb. There is a very good chance of taking a trophy wild brown trout at this water.
The Pet Reservoir has recently been stocked. We have stocked 4700 yearling rainbow trout and 400 adult brown trout into the Pet. This water is always popular given its close proximity to Burnie and it is primed to fish well this season. All angling methods will produce fish.
Lake Kara is always popular on opening morning. Again this year the service will stock domestic fish on the eve of the season which will undoubtedly create quite a bit of excitement amongst anglers. There is always a large crowd of anglers there on opening morning so our advice would be to get there early to secure your spot. Find out more from the Lake Kara fact sheet.
Lake Barrington is still giving up extremely large salmon from the stocking we conducted at the start of July. Fish up to 20lb have been caught, and there are still plenty there. If you are itching for a fish and can't wait until Saturday then Lake Barrington is an excellent option. See the Anglers Access brochure for Lake Barrington.
If you have a junior angler in the family, the Devonport Angling Club is again having its season opening celebration and prize presentations Taylors Dam at Latrobe. There will be giveaways for junior anglers and hopefully lots of hungry fish after the stocking the IFS has conducted during the week. Gates open at 11am for registration with the prize presentations kicking off at noon. After this the afternoons fishing will begin. We recommend people arrive early to allow for time to register. Why not make it a family day and combine the Taylors Dam junior angling day with a trip to the Mersey River?
For anglers further along the coast, the Inglis River, Flowerdale River, Black River, Duck River and Lake Mikany are excellent early season waters. With levels still up from the recent rains, good fish will be taken from all of these waters.
The IFS has also stocked several farm dams for public fishing along the coast. These waters will also provide good options to those chasing their first trout of the season.  A list of the private dams open to public fishing is on our website.
Take a friend, your kids, grandkids trout fishing and pass on the tradition and create lifetime memories. Remember to fish for the future, only take home what you need for a feed. We want there to be plenty of fish for everyone.
Best of luck to all anglers the best of luck for the start of the season. Don't let another season pass you by!