Anglers Access flood damage update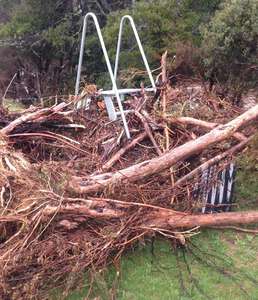 We've now looked at most of the Anglers Access sites. There is major damage in the Leven and Mersey catchments and minor damage on the other northern rivers. Many stiles and signs are damaged or missing and fences destroyed.
Fortunately, footbridges and many stiles have survived although they are covered in debris.
Due to the bad damage to river banks, bridges and roads in the Leven and Mersey catchments it is unlikely we will be able to make repairs before the opening of the season on the 6th August. Many access sites are unsafe due to debris, erosion and large machinery being used by landowners and other Government departments for repairs.
Anglers should stay away from these areas during rebuilding and pay attention to closure signs and safety warnings – landowners need time and space to get their farms back up and running without worrying about anglers.
We hope the repairs will be completed on the Meander, Macquarie, North Esk and Lake rivers and Brumbys Creek before the opening of the season, so long as the weather allows and there is no more flooding. Work on the South Esk Anglers Access project will be put on hold until repairs are complete.
Anglers wishing to help with the rebuild are invited to contact BlazeAid – a volunteer organisation that works in rural areas after floods and fires rebuilding fences and other structures. While the help may not be targeted at Anglers Access infrastructure it will be on areas affected by the floods including many properties with Anglers Access agreements. For more information go to www.blazeaid.com , email blazeaid.ulverstone@gmail.com or  blazeaid.portsorell@gmail.com