IFS checks on a special group of golden galaxias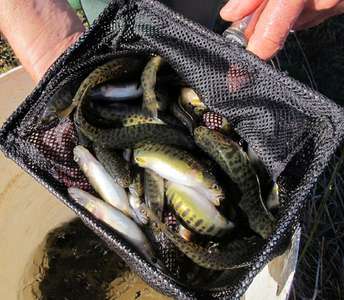 The golden galaxias (Galaxias auratus) is a small rare native fish found only in lakes Crescent and Sorell and is a listed Threatened Species.  Even though there are quite a lot of them in lakes Crescent and Sorell, in 1998 some were moved to a spring fed farm dam, off the Clyde river, just in case something should happen to the ones in lakes Crescent or Sorell. With the strong support of the McShane family, this group has grown in number and reduced the risk of this species dying out.
Recently, we went to the dam and found the goldens to be in fantastic shape.  Over one night 10 small fine mesh fyke nets were set and the next morning we looked at what we'd caught.  About 1 900 fish were caught, weighed, measured and then let go, unharmed, back into the dam to re-join their mates.  All fish, both young and adult, were in great condition.   IFS would like to thank the McShane family for their ongoing support of this project in giving a home to these just-in-case fish.