Electrofishing training so we can continue to improve our fisheries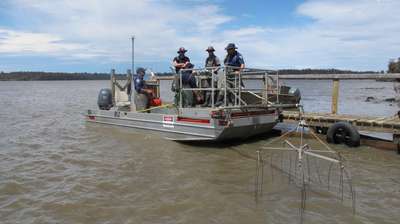 Electro-fishing is an important sampling tool for our fisheries management and is used for fish surveys, investigation of pest fish sightings and for the ongoing carp eradication program.
A training session was recently held at the Lake Crescent Field Station and IFS staff were provided a theoretical and practical session on the technical aspects of an electro-fishing operation, the safety precautions when operating the equipment, as well as the most efficient way of sampling to maximise capture while minimising the amount of stress to fish.
Thanks to Rob Freeman an IFS Senior Fisheries Management Officer who ran the training that covered both back pack electro-fishers and the electro-boat.