With summer almost here please be careful when lighting campfires.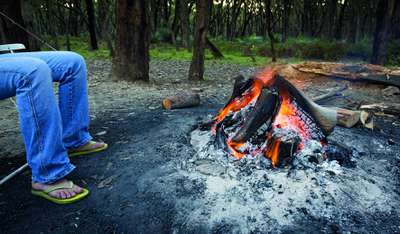 One of the great things about living in Tasmania is that you can easily pack up the family, your camping equipment, fishing gear and jump in the car and go fishing for a few days.
As Tasmania moves into the warmer months it's an opportune time to think about campfire safety. Here are a few tips from the Tasmanian Fire Service to prevent your campfire from turning into a bushfire:
• Never leave your fire unattended
• When building a fire ensure it is well contained
• Always extinguish your campfire with water. Don't use soil.
• Fires can smoulder under soil and can stay hot for more than eight hours. Soak it, stir it and soak it again.
• Check if any restrictions are in place before you light a fire and never light a fire on a 'Total Fire Ban' day.
• Obey all signs in national parks and other reserves that may restrict where campfires may be lit.
It is essential to have a Bushfire Survival Plan if you are staying or living near bushland to know what action you and your family should take when a bushfire approaches.
For more information about the 2015-16 Bushfire Safety Campaign and to download your Bushfire Survival Plan Booklet visit www.fire.tas.gov.au or free call 1800 000 699.