Raffle winner a worthy recipient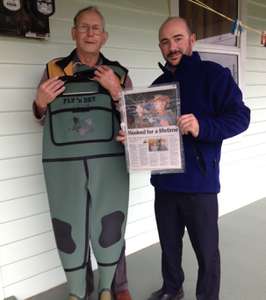 The winner of the waders that were raffled at the 2015 Trout weekend at Liawenee was James McCarthy of Railton. James was extremely pleased with his prize and will use them locally on the Mersey River, where he has over 70 year's trout angling experience. There was a big story written about his trout fishing adventures on the Mersey in the Advocate on 4 January 2014. Whilst delivering the waders on Tuesday, Inland Fisheries staff Paul Middleton and Stephen Hepworth were delighted to see this story and hear some of his fishing tales and advice.
James first went trout fishing on the Mersey River near Railton with one of his friends when he was 14 years old, and never looked back after seeing his mate land a 10lb fish on that day. He still visits these spots today, and six years ago caught his biggest fish in a location nearby a beautiful brown trout of 11lb. Fishing on that day with his friend Carl Castles – who has been fishing with James for over 50 years – they decided to swap spots for the day because Carl had been having all of the luck!
James was very thankful to landowners in the Railton and Kimberly area for allowing him access to the river. He spoke about how this was a privilege, and that he had never once left a bottle or can on someone else's land.  He also said that it is extremely important to look after the fishery, and he has never taken more than four fish home after a fishing trip to ensure that there is always plenty for next time. This makes it better for everyone he said.
The Fly and Dry waders were donated to the 2015 Trout Weekend by Anchor Wetsuits.