Compliance patrol 21 and 22 March 2015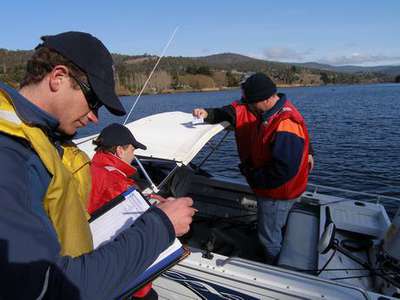 Over the weekend of 21 and 22 March Fisheries Officers provided a high profile uniformed, educational and enforcement presence for the detection of offences under Inland Fisheries and Marine and Safety legislation.  The patrol area reached from the River Derwent to the central highlands and  north to Devonport. 155 fishing licences were inspected including  bag and size limits as well as vessels exiting and entering boat ramps.
Officers issued nine infringement and conditional caution notices for failing to wear a PFD in a vessel under six meters while underway (four), possession of assembled rod, reel and line and fishing without an angling licence (four), and using unattended set rod (one).
Anglers are reminded that it is compulsory to wear an approved life jacket (PFD) in a vessel under six meters while underway and the minimum safety equipment for motor boats on inland waters is fire extinguisher, bailer, bucket or bilge pump, auxiliary propulsion of  either paddles, oars or outboard, and anchor rope and chain.
Anyone who suspects or witnesses unlawful fishing activity is urged to contact Stephen Hepworth Manager (Compliance and Operations) at the Inland Fisheries Service on 0438 338 530 as soon as possible.