Stage one of Penstock Lagoon boat ramp upgrade complete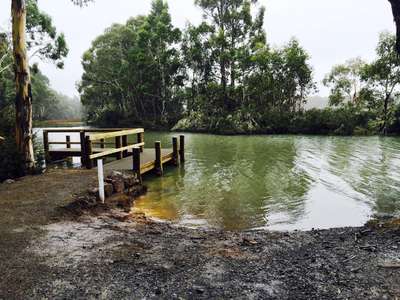 Favourable weather conditions allowed an early completion of the timber landing at Penstock Lagoon - stage one of the boat ramp upgrade .
Anglers will be able to use the new facility at the start of the 2015/16 angling season which is keenly anticipated due to the planned transfer of 4,000 adult brown trout into the lagoon over the closed season. To date over 3,100 fish have been transferred with the balance dependent on further rain into the spawning catchments.
Stage two – installation of flexmat to the ramp itself- is scheduled for completion prior to Christmas.
This project has been made possible through the MAST Recreational Boating Fund.