Carp are on the move in Lake Sorell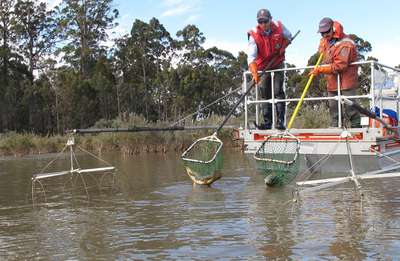 The relatively cool and mild start to summer has meant that the past month of carp targeting has been difficult, with the majority of carp dispersed around the deeper rocky sections of the lake.
Although the carp management team is putting in an immense amount of fishing effort on a daily basis, the catch per unit effort has been low.
In early January 2015 the combination of light winds and hot temperatures have finally warmed the waters enough to spur the carp into moving, with some good catches being made as small groups of fish pushed into the shallows to feed.
The increase in activity was first observed in the numerous transmitter fish swimming in the lake, where after being seen to sit in one section of the lake for weeks at a time, they were finally detected in new areas. These shallow water aggregations make the carp vulnerable to capture by both electrofishing and gill netting.
Hopefully there is more to come of this weather for the remainder of the summer, so that a real impact can be made on the remaining carp population.