Survey for estuary perch part of honours study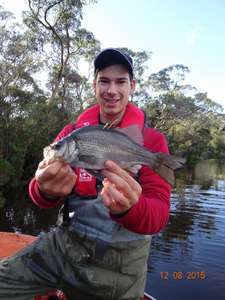 During the second week of August 2015, IFS fisheries officer Paul Middleton and Institute for Marine and Antarctic Studies (IMAS) Honours student Bryan Van Wyk surveyed the estuary perch population at Arthur River.
Estuary perch (Percalates colonorum) is a native predatory fish closely related to Australian bass (Percalates novemaculeata). Estuary perch have a reputation on mainland Australia for their hard fighting ability on light tackle when hooked around snags and take interest in various methods of fishing including bait, lures and fly. Thought to be once prolific across northern Tasmania's rivers, estuary perch are currently only known to inhabit the Arthur River on Tasmania's west coast.
Due to population uncertainty, a strict no-take policy applies as per IFS regulations since 2008. Studies are currently being undertaken by researchers at IMAS to develop background knowledge on the reproduction and the population dynamics of the Arthur River stock. Information of this kind is crucial for the management of the species in Tasmania and also may provide insight into developing estuary perch fisheries to increase recreational fishing opportunities. Part of this study involves a long-term tagging program to acquire population estimates and to build an understanding of movement and growth.
IFS recently surveyed the river and found good numbers of estuary perch, including a few tagged fish from a previous survey that was also a part of the current study. There were also a number of sea run brown trout taking advantage of some early bait migrations. With the above-average rainfall over the past month, the river mouth has opened up wider than previous years which should allow for some fresh oxygenated salt water to push in. Anglers can expect some good fishing in the up and coming months but should be cautious of floating logs coming down the system. With the whitebait season fast approaching it's expected that estuary perch will be caught as bycatch to many trout fishers and anglers are reminded that they must be released. Anglers may aid IFS with this study by reporting any tagged captures during the fishing trips.
It is important to note that if a tagged estuary perch is caught it must still be released as would any untagged specimen. Due to the nature of this project, a dead tagged perch can't contribute any more information to the study.
If you catch an estuary perch you should:
1.    Record the fork length.
2.    Record the two tag numbers of the fish.
3.    Release the fish.
4.    Take note of the location (how far upstream from the mouth, what sort of habitat etc.).
5.    Notify Bryan Van Wyk (0437 103 176) or Inland Fisheries Service.