Circular Head Landcare Group: important notes for fishermen – Ricegrass program 2014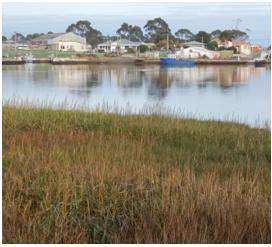 Ricegrass is an invasive species which colonises mudflats and estuaries.  It clogs up channels, and destroys habitat for wader birds and breeding grounds for fish such as flat-head and flounder.  It is out of control in the Rubicon and Tamar estuaries.  It can still be eradicated from the Duck River and surrounds.  Circular Head Landcare Group has received funding for ricegrass spraying for the next two summers.
We are planning to do small scale follow-up work in previously sprayed areas in the Montagu area, plus do some primary control in a new area inside the Duck Estuary.  We want to start at the most easterly and most upstream areas, as most of the water flow is to the west. We will spray the eastern side of the Duck River from Eagle point to the Duck River bridge in Smithton, and then on both sides of the river upstream to CH Dolomite.
Spraying will mainly be done by contractor, with some of the follow-up done by CH Landcare members.  We will be spraying during "no-harvest" times for the oyster farmers which generally correspond with oyster spawning.  We are also restricted to spraying at low tide in good weather. We will be using the grass selective herbicide "Fusilade Forte" under the conditions specified in AGVET Permit No. PER 12616.
The likely times for spraying in 2014 are 20th – 25th January and 3 – 9th February.  There is a 7 day withholding period on Fusilade Forte for animals harvested for human consumption.   Therefore to be on the safe side, fish should not be caught and eaten out of the Duck River and Duck Bay round to the river mouth between 20th January and 16th February 2014.
These dates, and any changes or updates, will be posted at Smithton public boat ramp and at the reclaimed site directly across the river where people fish from the rocks.


For any concerns or more information, please contact:  Sue Jennings (0429 337 204).