Little Lake track maintenance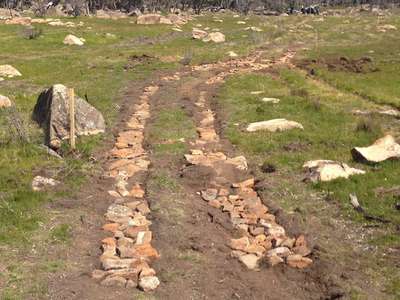 Following the rerouting of the Gunns Lake to Little Lake 4wd track in 2013, the IFS, with the assistance of volunteers, has continued to monitor the condition of the track.
When conditions permitted in February 2014, due to a record wet spring in 2013, IFS staff and volunteers inspected the track and undertook maintenance as required. Inspection revealed that the track is receiving regular traffic and is improving with use. Some fallen timber was removed from the track, additional signage installed and a large amount of stone placed in the areas most vulnerable to erosion and inundation. Finally a large amount of rubbish was removed from the vicinity of the Little Lake hut.

IFS would like to thank Jan and Bill Spencer and Hydro Tasmania for their assistance with this project.

Anglers are reminded that this track is suitable for high clearance 4wd vehicles only and should not be attempted in wet conditions. Alternatively Little Lake can be accessed on foot from Gunns Lake, an easy 20- 30 minute walk.