Lake Sorell chosen as site for national eDNA trials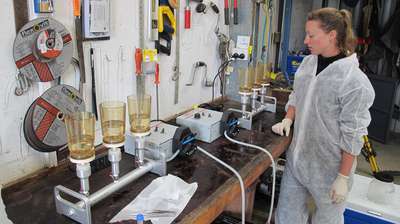 Last week, scientists from the University of Canberra collaborated with the Inland Fisheries Service in developing a framework for estimating the sensitivity of environmental DNA detection to inform sampling regimes.
Dr. Elise Furlan, the project leader/Postdoctoral fellow in Molecular Ecology was accompanied by her supervisors Professor Richard Duncan and Dr. Dianne Gleeson on a visit to Lake Sorell. Water samples were taken daily at various sites around Lake Sorell, which were then filtered to trap DNA on the filter paper.
Her work will highlight how many water samples must be taken before a conclusion is made that carp are present/absent in a waterway, particularly when carp are at low densities in comparatively large water bodies.
Lake Sorell is considered an ideal location due to its large size and isolated situation. The trials are supported by the extensive data and knowledge that is held by the widely recognised Tasmanian Carp Management Program.  The Carp Team were able to provide an ideal testing regime by leading the visiting scientist to known carp locations, allowing samples to be collected at varying distances from these sites.
If successful, this technique would be useful for confirming the presence of carp and other species in suspected waters while populations are small, as well as being a complementary technique for confirming the eradication of species from particular waters.