River surveys to investigate anglers concerns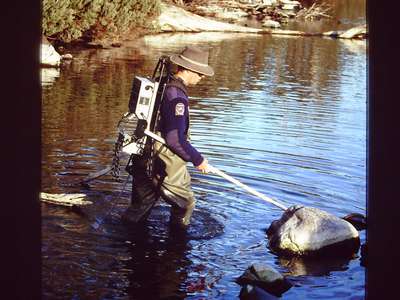 The Inland Fisheries Service is planning electrofishing surveys to assess the current status of river fisheries in Tasmania. These surveys will establish the current density and structure of trout populations in a number of Tasmania's popular river fisheries.

There have been a number of inquiries by concerned trout fishers, guides and angling groups about the current status of river fisheries in Tasmania during the current season. Rivers that have been prolific producers of trout in the past have in recent months produced low catch rates for some experienced anglers.

Using standardised techniques for assessing river populations of trout, the IFS will electrofish the River Leven, Tyenna, Russell, Mersey, St Patricks and Meander rivers to ascertain the density of trout and the spread of size classes. The methods used will allow comparison of previous results from surveys conducted in the 1990's, 1980's and 1970's.

The results will be made available to the public in report form after the surveys are completed, which is expected to be during March this year (2013).