Refurbishment of the IFS electrofishing boat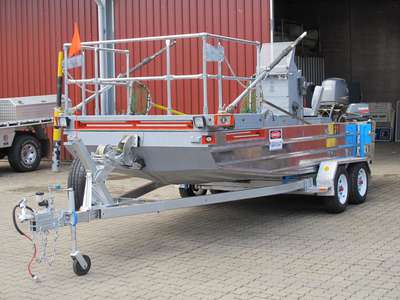 The IFS recently refurbished its' electro-fishing boat. The boat purchased in 1996 to assist with the management of carp in lakes' Crescent and Sorell has been used for a variety of fish surveys across the State.

This vessel is a valuable weapon in the battle to rid Lake Sorell of carp, as has been successfully achieved in Lake Crescent. It is also used in surveys of lakes for trout fishery management where it is a very useful way of sampling a variety of size classes of trout quickly for assessment of management strategies. The fish captured are not killed and can be released if needed.

The work undertaken on the boat included a thorough inspection and cleaning of the hull for safety and improved conductivity, renewal of buoyancy, the replacement of the generator unit and an inspection of intricate wiring and an upgrading of the lighting system to LED. Along with this the trailer was also improved by fitting a disc brake system, new hubs wheels and axle.

The work will ensure that this effective sampling method for both carp capture and trout surveys will be available for coming years.