Recreational use of Lake Trevallyn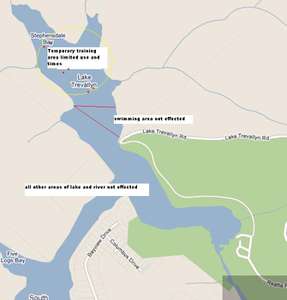 The recent stocking of Atlantic salmon has attracted more anglers to Lake Trevallyn. The lake is managed to cater for other recreational use and the rights of water skiers, wake boarders and swimmers should be respected.
The salmon in previous years have made their way up into the South Esk River in the weeks following the stocking. Anglers should focus their efforts in coming weeks on the river upstream of the lake.

It is important to be aware of two areas in the lake where boating is restricted and fishing from a boat is prohibited in these areas, see below:
(a) the waters bounded by the Trevallyn Dam, a sign on the northern bank and a sign on the southern bank, both signs located approximately 500 metres upstream from Trevallyn Dam.

(b) the waters of Stephensdale Bay bounded to the south by the buoy line or two signs on the bank.
As this lake is infrequently stocked with salmon please limit your take. The bag limit is set at 12 fish and 220 mm size limit for this lake but for salmon stocked waters elsewhere it is 5, with no more two fish over than 600 mm. Thisis a scarce resource that should be shared amongst all anglers, please limit the number of fish you take.