Mossy Marsh reopened for angling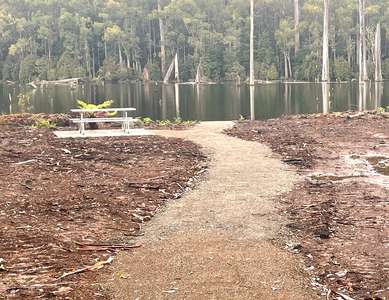 Hydro Tasmania advise that Mossy Marsh Dam has re-opened for recreational use.
This follows dam safety improvements at Mossy Marsh, which involved installing a spillway and other dam upgrades. The civil works for those upgrades were completed in March 2023, but the site rehabilitation took a little longer to achieve due to weather conditions. Upgrades for recreation include parking closer to the dam and a pathway to the waters edge making it easier to launch canoes and kayaks. A new picnic table adds to the amenity.
Known for a large population of small brown trout, Mossy Marsh Pond is a picturesque, sheltered clear water surrounded by forest and is ideal for wading and manually propelled kayaks and canoes. Submerged logs and trees provide lots of cover for the trout and present a challenge for the angler. Set rod bait fishing and lure casting with shallow running lures can be rewarding. Ideal for fly fishing particularly on warm days when beetles and other terrestrials will bring fish to the surface.
Please be aware that further Tarraleah Hydro Scheme upgrade works are continuing with a new intake being constructed to Lake King William. As a result, Butlers Road Gorge is closed on weekdays between 7:00 am and 5:00 pm beyond the Mossy Marsh turn-off.
If you'd like to stay up-to-date on the Tarraleah redevelopment project and upgrade works, please visit https://connect.hydro.com.au/reimagining-tarraleah