Scientific publication by the IFS receives best paper award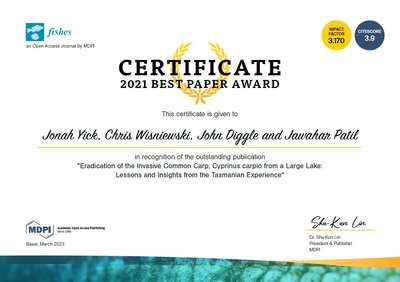 A paper titled "Eradication of the Invasive Common Carp, Cyprinus carpio from a Large Lake: Lessons and Insights from the Tasmanian Experience" published in 2021 in the journal "Fishes", was recently awarded the winner of the Fishes 2021 Best Paper Award. The paper was written by Jonah Yick, Chris Wisniewski, John Diggle, and Dr. Jawahar Patil, and compiles and describes the strategies and techniques used to eradicate common carp (Cyprinus carpio) from Lake Crescent (23km2) in Tasmania's central highlands.
All papers published in 2021 in the journal were considered for the award. Thorough evaluation of the originality and significance of the papers, citations, and downloads were all taken into consideration. The IFS were awarded CHF 500 (Swiss franc) and a chance to publish a paper free of charge in the journal in 2023 (after peer review).
Fishes: https://www.mdpi.com/1008178
Citation: Yick, J.L.; Wisniewski, C.; Diggle, J.; Patil, J.G. Eradication of the Invasive Common Carp, Cyprinus carpio from a Large Lake: Lessons and Insights from the Tasmanian Experience. Fishes 2021, 6, 6. https://doi.org/10.3390/fishes6010006